Document Imaging
Records and Information Management
Our company offers quality products and specializes in records and information management. Clients turn to Advanced Imaging Solutions, Inc. in Metairie, LA for their document imaging needs. Please read on to learn more about what our clients have to say about our services..
St. John Parish School Board 
"With approximately 6,400 students,  1,000+  employees, and 12 schools,  the St.  John Parish School Board (SJPSB) and the Special Ed department has a lot of ground to cover. But, with Datafiche™ enterprise content management (ECM) they have gone virtually paperless in special education and other departments.  All documents, files, reports and other content are stored as electronic images in a central online repository. Staff can instantly access student documents and update, route and approve as necessary with no shuffling or sorting of paper.  In addition to better document management, SJPSB has also improved security in their Special Education department. With the Datafiche™ ECM system in place, staff can manage document permissions, meaning only those authorized to see those files have access. Special Education is very security-intensive, and Datafiche™ has allowed them to put everything in a secure online location so there is no loose paperwork floating around."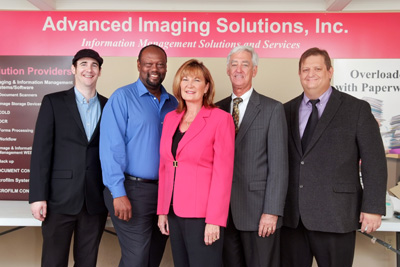 Delgado Community College
"In closing, I want to add that the people who are Advanced Imaging Solutions, Inc. are truly wonderful representatives for Canon products. They are willing to work with you, for you, and they always have a solution for any want that needs to be met."
Jeannie M.
City of Baton Rouge
"I really needed some sound advice concerning the type of scanner that would fit our needs. I contacted Advanced Imaging Solutions, Inc. and spoke to Lynne Smith. Lynne was really knowledgeable about scanners. He understood all the concerns I had about compatibility, performance, and price. Lynne e-mailed me brochures on four different scanners that would fit our demands and then offered his suggestions to purchase the Canon scanner which he felt would meet all of our expectations.
Lynne Smith and Pat Anderson came out, installed, and configured the scanner. We scanned in our daily documents that afternoon in record time. We rest the imprinter to stamp 'scanned' on each page. We have been scanning with the duplex-skip blank page setting on and with the automatic page size setting. These functions work beautifully to capture all of our data whether on the front or back of a page and whether or not the document is legal or letter size. We no longer need to copy and reduce our legal pages to letter size. So far the scanner catches any staples that get left in the documents by reminding us to remove them before continuing to scan. We have not had any trouble with double fed documents using the scanner's ultra-sonic double feed detection function.
Prior to the new scanner it took about two hours to do our daily scanning and now we can get it done in about forty-five minutes. Just as Lynne had assured us, this scanner really serves our needs. I wish to thank all the staff at Advanced Imaging Solutions, Inc. for working with us on this project."
Increase Your Work Efficiency
Advanced Imaging Solutions, Inc. offers more than scanners and document imaging. We also offer evidence storage and records and information management beneficial for organizations. Ask us any questions you may have by calling our office at (504) 888-7415 or by filling out the contact form.